Expert Tips on How to Clean Whiteboards Successfully: The Ultimate Guide to a Spotless Surface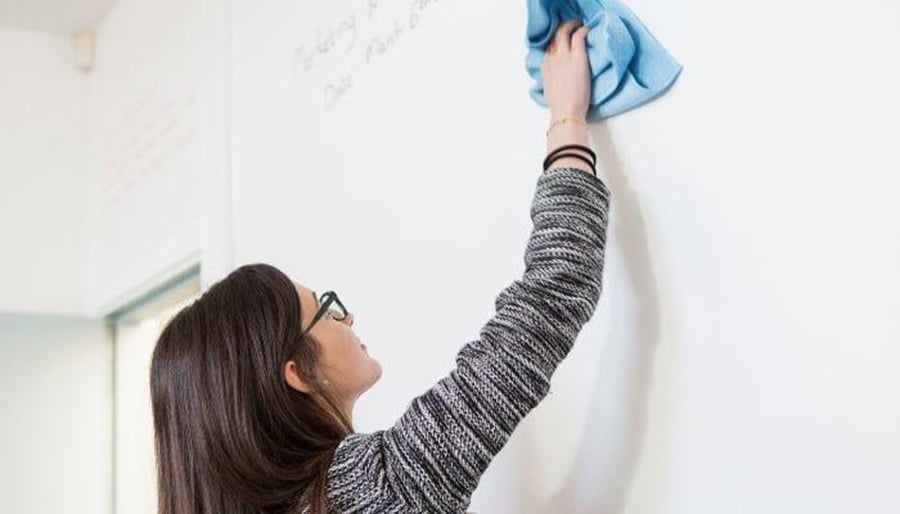 We've all been there—standing in front of a whiteboard cluttered with last week's brainstorming session or yesterday's to-do list. The moment you reach for that cloth or tissue paper, you realize you're not quite sure how to clean whiteboards effectively to get rid of those nasty stains. It's frustrating to deal with dirty whiteboards that display ghosting, permanent marker stains, or yellowing. But worry no more. This comprehensive guide will answer all your questions, from the basics of how to clean a whiteboard to maintenance tips and product recommendations.
Why is Proper Whiteboard Maintenance Important?
Much like any working surface, whiteboards need regular care. Proper maintenance will not only keep your whiteboard white but will also enhance its longevity. This article will dive into various methods and products that can be used, including Smart Whiteboard Paint and Whiteboard Wallpaper, both award-winning solutions from Smarter Surfaces. So, read on to understand how to clean whiteboards like a pro.
What You Need to Know About Whiteboard Markers
Quality Matters
When thinking about how to clean whiteboards, it's crucial to consider the markers you're using. The quality of your dry erase markers can significantly affect the ease with which your whiteboard can be cleaned. Not all inks are created equal; different brands use different quality ink. Although you don't have to buy the most expensive markers, opting for premium whiteboard markers can make a difference in the long term.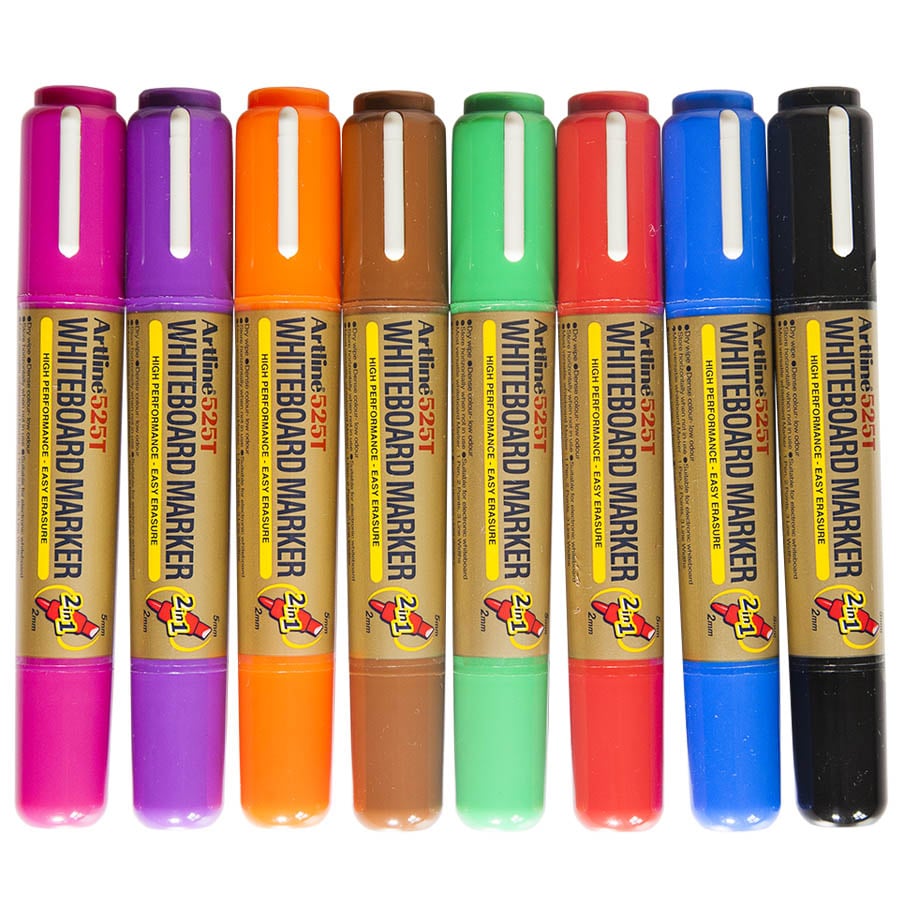 Ink Behavior
Furthermore, the pigments used across different colors behave differently, affecting how to clean a white board. For example, black ink may rub off easily, while red ink may be a bit more stubborn. So, the next time you wonder why some colors are harder to clean off, consider the ink quality and pigments used.
Tools for Cleaning Whiteboards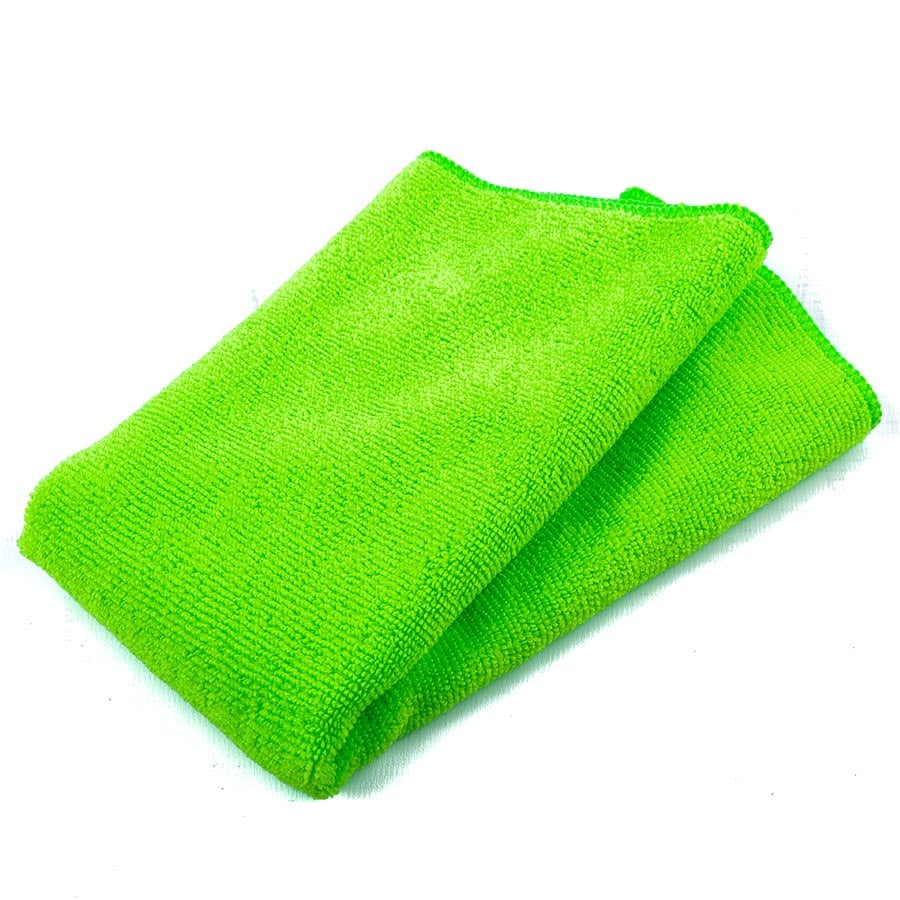 Specially Designed Cloths
A key part of understanding how to clean whiteboards lies in the type of cloth you use. Some materials merely push the ink around, making the surface look even worse. The right cleaning cloth will absorb the ink, making it much easier to clean. One recommendation for this is to use a micro fibre eraser cloth, which effectively removes markers without requiring a daily cleaning spray.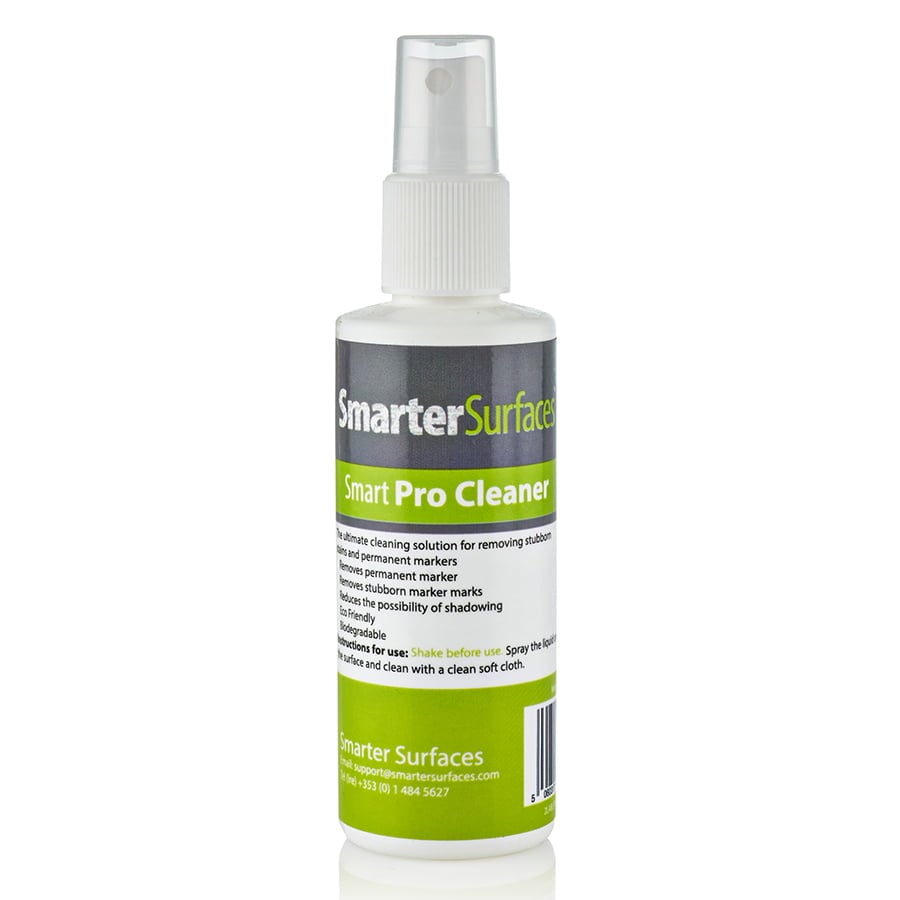 Whiteboard Cleaning Sprays
Another factor that plays into how to clean dry erase boards is the choice of cleaning spray. Avoid using regular household or office cleaning products as they can damage the whiteboard surface over time, contributing to yellowing and weakening its write-on, wipe-off functionality. Smarter Surfaces offers a specially designed whiteboard cleaning fluid that won't damage your board. Our Permanent Marker Remover is designed to remove stubborn stains and permanent marker from Smarter Surfaces dry erase products such as Smart Whiteboard Paint.
How to Clean a Whiteboard for Daily Maintenance
For those who wonder how to clean whiteboards daily without causing surface damage, the process is simple. Wipe your board with a soft, lint-free cloth or micro fibre eraser cloth. If the surface sees heavy use, consider a mild whiteboard cleaning spray.
Step-By-Step Guide: How to Clean Whiteboards Effectively
Understanding how to clean a white board isn't just a one-time task; it's an ongoing responsibility. Here's a step-by-step guide that you can follow for optimal results.
Step 1: Evaluate the Whiteboard
Before you decide how to clean your whiteboard, take a moment to assess its condition. Is it just a little dirty from daily use, or are there stubborn stains that require special attention?
Step 2: Gather Your Supplies
For a basic clean, all you'll need is a soft, micro fibre eraser cloth. If your board has stubborn stains or heavy residue, you will need a specialized whiteboard cleaning spray. For stubborn or permanent marker stains make sure you have Permanent Marker Remover to hand.
Step 3: Start with a Dry Wipe
The first step in the process of how to clean dry erase boards is often a simple dry wipe. Use your cloth to erase as much as you can.
Step 4: Use a Cleaning Spray
If a dry wipe isn't enough, use our whiteboard-safe cleaning spray. Apply a small amount to the board and gently wipe the surface. Always opt for a specialized whiteboard cleaner, like Smarter Surfaces' whiteboard cleaning fluid, to prevent surface damage.
Step 5: Handle Stubborn Stains
For those really persistent marks that defy standard methods of how to clean whiteboards, consider using a stubborn stain remover spray on an ad-hoc basis. We developed Permanent Ink Remover for these situations.
Step 6: Rinse and Repeat
If your whiteboard still isn't clean, repeat steps 4 and 5 as necessary. Always remember to avoid abrasive cleaners and sponges that can scratch and ruin the surface.
Step 7: Regular Maintenance
Consistent cleaning prevents ghosting and staining. Even if the board doesn't look dirty, a monthly deep clean is a good practice.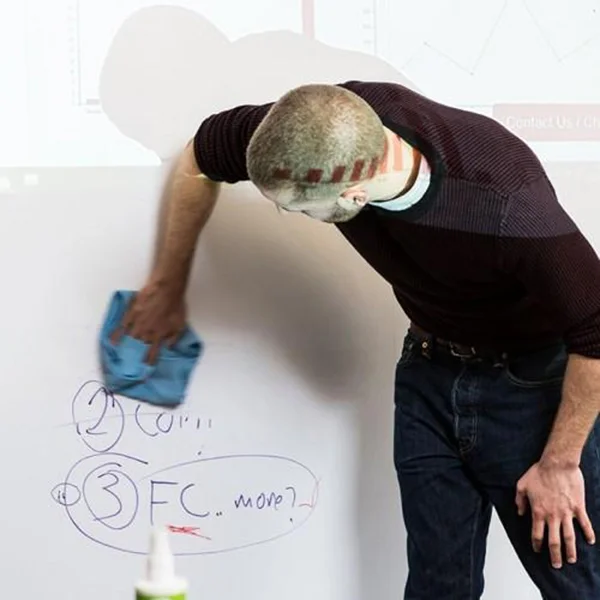 How to Clean Whiteboards & Keep Them White All the Time?
How to Maintain a Whiteboard?
Understanding how to clean whiteboards is important, but regular maintenance will ensure your board lasts longer and stays cleaner. Once a month, consider using a a regular whiteboard cleaner even if there are no visible marks. It will refresh the surface and improve its write-on, wipe-off functionality of your Smarter Surfaces' Smart Dry Erase Wallcovering or Whiteboard Paint.
How to Make Your Whiteboard Erase Better?
If you're asking how to clean a white board to improve erasability, using a specialized cleaning fluid like Smarter Surfaces' whiteboard cleaning fluid can make a huge difference. It's formulated to enhance the erasability of your board, making it easier to wipe off marks.
How to Make Your Whiteboard Look Like New?
Is your whiteboard looking a little tired? You may wonder how to clean a faded whiteboard. If you have an old whiteboard that you are looking to revamp, Smarter Surfaces' Permanent Marker Remover is the perfect solution to restore it to a like new condition. Simply spray directly onto the desired area of the whiteboard and wipe clean.
Why Does My Whiteboard Keep Staining?
If your whiteboard is staining, you may not be following the right procedures on how to clean dry erase boards. Using inappropriate cleaning agents like household cleaners can lead to surface damage and staining. Always opt for specialized whiteboard cleaners to prevent this.
Can You Repaint a Whiteboard?
If you're dealing with a severely damaged or faded board, you may wonder, "Can whiteboard be painted over?" The answer is yes, with Smart Whiteboard Paint. This commercial-grade paint can transform any smooth surface into an interactive dry erase area. It offers a seamless, joint-free, and clean surface that integrates effortlessly into any workspace.
How Long Does Whiteboard Paint Last?
When it comes to longevity, Smart Whiteboard Paint, for instance, offers a durable and long-lasting surface. With proper care and maintenance, you can expect your painted whiteboard to remain functional for years to come. It's a sustainable investment that withstands regular use without ghosting or staining.
Additional Tips: How to Remove Unwanted Marks
How to Get Permanent Marker Off Whiteboard?
In case you or someone else accidentally uses permanent marker on the board, don't panic. You can easily remove it using a stubborn stain remover spray like Permanent Ink Remover from Smarter Surfaces. It's a powerful solution that can effectively remove even the most stubborn marks.
How to Get Dry Erase Marker Off Wall?
If dry erase marker ends up on a wall, use a mild cleaning agent or whiteboard cleaner to remove it. Test a small area first to ensure it won't damage the paint.
How to Remove Dry Erase Marker From Clothes?
Accidentally marked your clothes? Apply a small amount of isopropyl alcohol to a cloth and gently dab the stain. Wash the garment as you normally would.
Learning how to clean whiteboards isn't just about removing marks. It's about understanding how to maintain and enhance the longevity of your board. Whether it's using quality markers, specialized cleaning fluids, or even considering alternative solutions like Smart Whiteboard Paint, the key to a well-maintained whiteboard lies in informed choices.
From keeping it clean to revitalizing an old board, your whiteboard can be an endless source of creativity and productivity when cared for properly. Whether you're a professional, a student, or someone who enjoys jotting down ideas, knowing how to clean whiteboards effectively is essential for maintaining a functional and aesthetically pleasing workspace. Now that you know how to clean whiteboards, you have no more excuses for putting up with dirty, stained, or ghosted surfaces.