Projector Screen vs Paint: What's Right for You?
Looking to create a projection surface but overwhelmed with choices? You're not alone. In this projector screen vs paint showdown, we'll look at the world of projector options to help you make the best decision.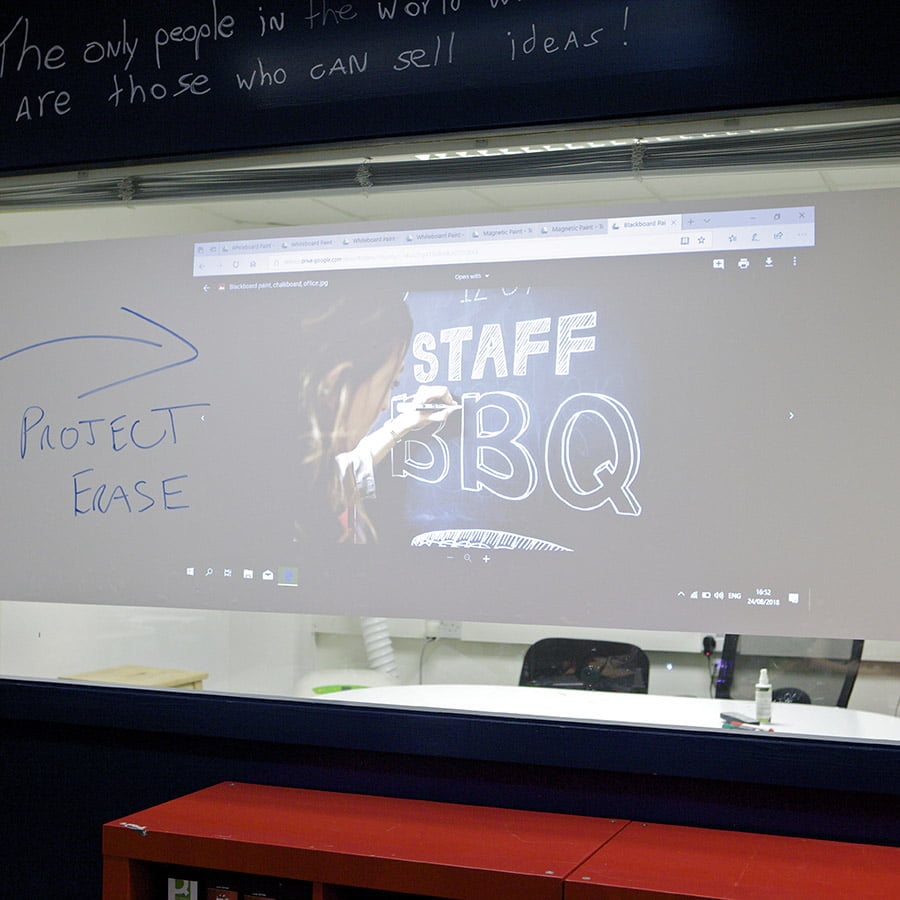 What Can Projection Paint Be Used For?
Projection paint is more versatile than you might think. Whether it's an office, classroom, or your home, projection paint can transform traditional walls into interactive spaces. You can use projector screen paints to turn your office partitions, classroom walls, or even home walls into surfaces perfect for projecting in reduced ambient lighting.
Is It Better to Paint the Wall or Use a Screen for a Projector?
When it comes to projector screen vs paint, the answer may surprise you. While traditional screens have been the go-to choice for years, projection paint offers an innovative and flexible alternative. Using Projector Screen Paint for Offices and Classrooms allows you to customize your projection area size and shape, offering greater flexibility for various room dimensions. This makes it a perfect solution for rooms that have unique configurations or multiple-use purposes, particularly in offices and classrooms.
White Projector Screen Paint Pro offers superior performance with its certified gain value of 1.24, making it ideal for spaces where top-notch projection quality is required.
Can I Use Paint as a Projector Screen?
Absolutely, yes. Products like Ambient Light Rejecting Projector Screen Paint are designed specifically to act as projector screens. They come with benefits like Advanced Ambient Light Rejection, which resists unwanted light, and Enhanced Picture Reproduction, providing luminous, high-definition images. What's more, you get the ease of paint application to transform any wall into a functional projector screen.
What Are the Differences Between Various Projector Screen Paints?
While regular white paint has a gain value of 1, Smart Projector Screen Paint Pro ups the game with a gain value of 1.1. This difference in gain value means that the Pro version reflects more light, thereby offering a sharper and higher definition projection.
Then there's Black Projector Screen Paint, designed to absorb ambient light and deliver enhanced image contrast. This is ideal for commercial projection settings or home theaters where powerful, high lumen projectors are in use.
If you prefer a more discreet approach that doesn't change your room's aesthetic, Smart Clear Projector Screen Paint is your go-to. This transparent coating optimizes projection performance without altering the existing wall color, making it ideal for those who wish to maintain room design continuity.
Is Projector Screen Paint Worth It?
When weighing the benefits of projector screen vs paint, the value offered by projector screen paint becomes evident. Whether you opt for Outdoor Projector Screen Paint for your garden movie nights or Smart Ultra High Contrast Projector Screen Paint for an enhanced home theatre and gaming experience, the benefits are multifaceted.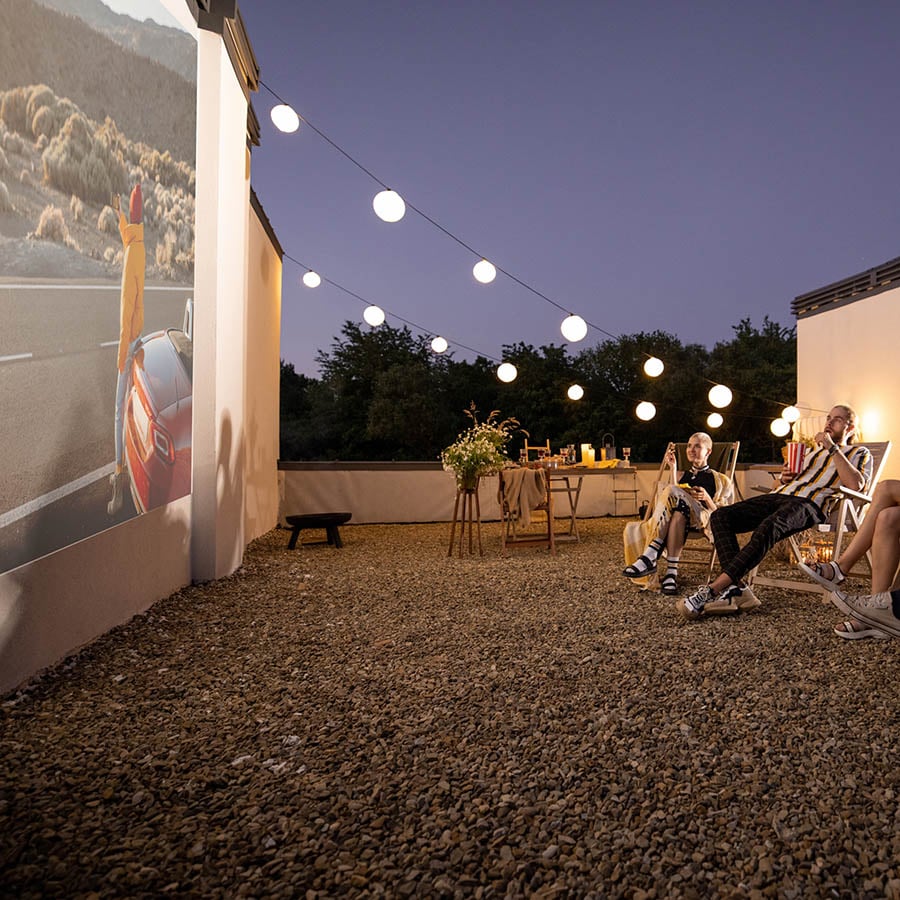 For instance, Smart Ultra High Contrast Projector Screen Paint offers deep black levels, high contrast, and is perfect for low ambient lighting conditions. If you're an enthusiast for visual quality, then it's worth the investment.
Is a Projector Screen Better Than a White Wall?
A plain white wall may suffice for casual use but will lack the features like enhanced picture reproduction or ambient light rejection that specialized projector screen paint can offer. Products like Short Throw Projector Screen Paint are tested for maximum projection quality and are specifically designed for environments requiring short-throw projectors. This brings us back to the projector screen vs paint debate—why settle for a simple wall when you can optimize your experience?
Outdoor and Specialized Solutions
For those interested in outdoor screenings, Smart Outdoor Projector Screen Paint offers weather, UV, and crack resistance, making it suitable for long-lasting outdoor use. When it comes to projector screen vs paint for outdoor use, specialized paint like this provides the flexibility and durability that traditional screens may not offer.
Smart Short Throw Projector Screen Paint is another specialized solution for those using ultra-short-throw projectors. The paint allows for clear pixel resolution up to 4K Ultra HD, making it ideal for professional settings requiring high-definition projections.
Ease of Application
Ease of application is another factor that tilts the scale in favor of projector screen vs paint. Products like Clear Projector Screen Paint come with a simple two-coat system, allowing anyone to transform a wall into a projector screen with minimal effort. This ease of use is found across the range, from Black Projector Screen Paint to Smart Ambient Light Rejecting Paint.
Making the Right Choice in the Projector Screen vs Paint Debate
In terms of performance, products like Smart White Projector Screen Paint Pro offer superior projection performance in varying ambient light settings. When it comes to ease of use and space-saving, projector screen paint outshines traditional screens, allowing you to maintain a sleek and minimalistic room design.
The projector screen vs paint debate comes down to the specifics of your needs and how you envision using your projection surface. If you require a high-performance surface that rejects ambient light and offers superior contrast and depth, going for specialized options like Smart Ambient Light Rejecting Paint or Smart Ultra High Contrast Projector Screen Paint will suit you.
When it comes to looking at a projector screen vs paint, traditional projector screens may offer ease of setup, projector screen paints offer a level of customization, variety, and performance that is hard to match.